Spa Remodeling Long Beach, CA
For Long Beach, Torrance, and Gardena residents who think that their spas already need a facelift, we at Swim-Rite Pools can provide them with the best spa remodeling help. With over a decade of doing business in California, we can use our experience in remodeling this type of outdoor amenity. We are composed of experienced crews who have successfully provided new looks and functions to countless spas in commercial and private properties in the state.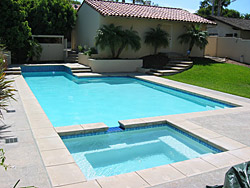 Call us soon and let's offer you value-for-money spa remodeling service with 100 percent commendable outcome.
Benefits of Spa Remodeling
We've been in the remodeling business since 1993, but, collectively, we have over several decades' worth of experience in spa remodeling. Through the years, we have managed to make a huge difference in the lives of our clients and their family and friends just by doing our jobs the best way we can. But what exactly are the benefits of remodeling your spa? Here are some of the best ones we can think of:
Aesthetic enhancement. Maybe your current spa is already outdated design-wise, in such case, remodeling is definitely in order. We can achieve your desired design or offer you some great suggestions based on your property's existing design or architectural makeup.


More relaxing experience. Spas are meant for relaxation and rejuvenation after a tiring and stressful work. But if your present spa amenities are not enough to give you that fully refreshed and relaxed feeling, then let us remodel them to include new amenities that will guarantee a satisfying experience.


Improved mobility. Perhaps, your spa is a bit cramped that it limits your movement and make you and your family or guests uncomfortable. But why suffer such inconvenience when you can just avail our spa remodeling services to enjoy a roomier spa space?


Factors that We Consider when Remodeling Spas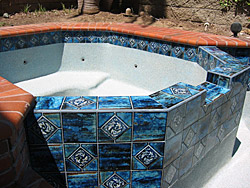 Experience tells us that care should be observed when handling spa remodeling projects. So whenever we're tapped to remodel spas, we always consider certain factors. We always begin with what our clients specifically need. Do they want a larger spa area? Or, perhaps, they simply want to add some amenities or new features. If the existing spa can't fulfill the needs of the homeowner, then we recommend new installation, which entails dismantling the old unit and installing a new one.
Once we've got full understanding of what clients are expecting to see and experience, we then consider their working budget. We make suggestions based on their financial limits and capacities, so clients fully know what to expect. We also consider their existing property layouts, structures, and designs to make sure that the spa will fit in the area.
The Best Materials and Remodelers
We use only premium materials and accessories to make sure that the spa will offer utmost relaxation to our clients. We send only trained installation and remodeling personnel in our projects, whether they are located in Long Beach or nearby cities. Some of our crews are even trained by our partner suppliers, hence making them fully qualified to handle the tasks at hand.
California's Most Reliable Spa Repair and Remodeling Company
Swim-Rite Pools is the most trusted spa remodeling contractor in Long Beach, CA. After completing a remodeling project, clients are assured of a fully functioning spa that is complete with the amenities they need and require. We also install new spas and repair damaged ones. In short, we are your one-stop company for all your spa needs.
Call us today at 310-704-8105.